The Beardstown Ladies' Book Investment Fraud
publication date:
Mar 6, 2009
Many book authors have avoided scrutiny of claims of high returns. Plenty of book publishers are happy to look the other way or even to solicit and encourage great boasts that they use in the packaging to sell books. Consider three books published during the 1990s stock market boom: The Beardstown Ladies Common-Sense Investment Guide: How We Beat the Market and How You Can Too, The Motley Fool Investment Guide by David and Tom Gardner, and The Whiz Kid of Wall Street's Investment Guide by Matt Seto.
In their book, the Beardstown investment club claimed a whopping 23.4 percent annual return since the club's inception in 1983. The authors advocate forming an investment club, pooling your money, and using a simple stock selection method to beat the pants off the market and the suspender-wearing managers of mutual funds. The bulk of their book walks the reader through how this investment club evaluated and selected individual stocks.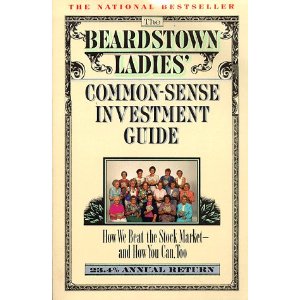 The Gardners, also founders of the Motley Fool online site, claimed in their book that novices can, "...nearly double the S&P 500 posting returns in excess of 20 percent per year....you might be able to fish out greater than 30 percent per year on your own without assuming considerably greater risk." They also say, "It's not an exaggeration to say that fifth graders can wallop the market after one month of analysis. You can too."
Seto's book boasts, "Matt Seto manages a portfolio that consistently outperforms 99 percent of all mutual fund managers . . . and returns an annual average of 34 percent." In his book, this 17-year-old investing genius says to forget bonds, real estate, and mutual funds and grow rich by investing entirely in individual stocks.
Each of these books made prominently displayed and marketed performance claims which, versus the market averages, place them shoulder to shoulder with the legendary Peter Lynch (formerly with the Fidelity Magellan fund), and Warren Buffett, an investor who Peter Lynch described as "the Greatest Investor of them all." Problem is, none of the books contain information as to how these investment gurus calculated their returns.
My Beardstown Investigation

When I first wrote about the Beardstown book for the San Francisco Examiner in 1995, I offered to work with an accounting firm to calculate the club's returns if the club supplied the necessary information. I asked the same of Seto when I read his book. Neither of these authors could supply the documentation to prove their claims, and they backpedaled when pressed.
Initially, the Beardstown club said it would send the information, but months passed, and it never arrived. The club's media spokesperson then told me that the club has ". . . chosen not to make our return an issue. . . . we're not out to be bragging." This statement was surprising, given the claims prominently plastered all over its book.
A 1998 piece in Chicago magazine proved that although the Beardstown investment club claimed 23 percent per year returns versus 14 percent for the market, it turns out they tremendously underperformed the market and only earned 9 percent per year.
The publishers of the Beardstown book, Buena Vista Publishing (which was doing business as Hyperion and Seth Godin Productions), was ultimately sued. The book publisher settled the lawsuit in 2002. Under the terms of the settlement, buyers of the Beardstown investment clubs books, audiotapes or videotapes received certificates which could be redeemed for other books published by Hyperion.
Do you think the Beardstown Ladies would have gotten their book deal (and landed on best-seller lists) if the facts had been known? Seto, likewise, could not prove his claim of an astounding 34 percent return. Meanwhile, the printing presses crank away.
Fools and Their Money

As for the Motley Fools, who used to publish a print newsletter before they set up shop on the internet, they had been around less than one year when they wrote their book I quoted from earlier in this article. Unknown to most of their followers is that only one of their five initial portfolios actually performed better than the market averages and two of their portfolios were shuttered after poor performance (one of which plunged 50 percent during its short six-month existence). Gary Karz, CFA conducted this multi-year analysis of the Fool's online portfolios.
Mark Hulbert, who tracks newsletter performance, also confirms the poor performance of the Fool's early online portfolios through 2002. In recent years, Hulbert has tracked four portfolios for the Fool's subscription-based portfolios and two of these have slightly beaten the market averages, one is about even and one has underperformed. (Hulbert notes that these fee-based newsletters don't yet have enough history under their belt for a decisive conclusion as to their performance value.)
The bottom line is this: ignore unaudited performance claims.
Financial book authors (and their accomplice publishers) making puffed up performance claims are no different than hedge fund swindler Bernie Madoff. They both dupe investors through bogus performance claims.
Be especially wary now for the endless parade of pundits, like Peter Schiff now claiming to have predicted the financial problems that started in 2008 and to be making big bucks for their followers.
Other Dangers in Books Written by Novices
Although I disagree with the Beardstown guide's premise — that an investment club can pick individual stocks and beat the market and the best professional money managers — the book had even bigger problems that are common to many narrowly focused investment books pitching one investment. The book did not address the importance of choosing investments that fit an investor's overall financial strategies and goals, which, as you can read throughout this book, is something that is essential to smart investing. Making sound investing decisions, of course, involves more than picking "good" investments. The Beardstown book completely ignored the rest of your financial situation, such as your tax bracket and your ability to contribute money to retirement accounts. Pooling money through investment clubs doesn't work well because different club members have different investing and tax needs.
"Our individual needs were not a factor in the selection of the stocks. We didn't consider taxes," the club's spokesperson told me.
Also surprisingly absent in the book was advice to take advantage of funding tax-deductible retirement accounts. The club spokesperson, for example, says, "I don't put the maximum possible in my 401(k). I put up to the amount that my employer matches." She believes that she can earn higher returns investing in individual stocks outside of a tax-sheltered account than she can investing in the funds provided by her employer in its 401(k) plan. Even if she could earn higher returns picking her own stocks, she might rethink whether she'll end up with higher returns. The lost tax benefits from not using her 401(k) plan are huge.