Using Your Smart Phone to Access Your Bank Accounts
publication date:
Sep 18, 2012
Millions of people, especially younger adults, are using their smart phones to access and conduct transactions with their banks and credit union accounts. As someone who has long avoided bank branch office visits when possible, I understand and appreciate the allure of mobile banking!
I especially like the ability to deposit a check with your smart phone by clicking a picture of the front and back and zapping it into your bank account. It's amazing what can be done with technology today!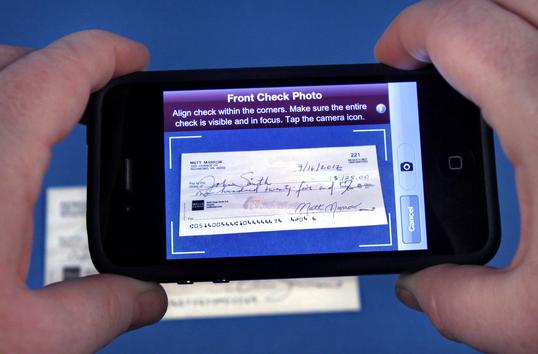 Smaller banks are generally not offering the mobile banking services that the larger banks are providing. Just be sure before signing up for anything mobile banking related or enabled that you understand possible additional charges as well as risks. (For example, some banks charge a small fee, such as $0.50 per check, for mobile depositing.)
Also, consider the alternatives. I have almost all of bills set up for automatic payments and my employment income payments directly deposited into my accounts. And, I don't need a traditional bank account as I have an asset management account that comes with unlimited check writing.
Concerns with Mobile Banking
There are legitimate concerns with mobile banking which you should consider. Consumer Reports points out that smart phones are susceptible to similar threats (phishing, spyware, and viruses) that your personal computer is in addition to some other risks. Here's what they recommend to do to use mobile banking safely:
When connecting to your bank, look for the lock symbol on the top bar of your browser window, which indicates a secure "https" site.
When downloading apps, carefully read the permissions that the phone's operating system will prompt you to review. An app that wants the ability to send text messages and make phone calls might be a Trojan texter or Trojan dialer, which can initiate calls or messages to a fraudulent phone number to add charges to your cell-phone bill.
Never use your smart phone on a public Wi-Fi network to conduct mobile banking, e-commerce, or other business involving user names, passwords, or other personal information. You might unwittingly use the Wi-Fi connection of a crook executing a "man-in-the-middle" attack, which allows him to capture your login and password information.
Download apps only from trusted sources to avoid spyware that can transmit your phone conversations, messages, or GPS coordinates to eavesdroppers.
Consider installing security software that detects and removes malware and lets you remotely lock or delete data if the phone is lost.
As you can see, there are a number of precautions to take. For my money, I'm not sure the small possible additional convenience of mobile banking is worth addressing all of these concerns so I'm sticking with my current system.