Dave Ramsey's "Endorsed Local Providers (ELPs)"
publication date:
Apr 2, 2013

Back in early 2009, I wrote the article below warning about radio and television personality Dave Ramsey and his shady relationships with investment brokers - endorsed local providers (ELPs) - he was referring listeners to.

Lately, I've been bombarded with Ramsey advertising saying:

Want Top-Performing Mutual Funds?
Dave's ELPs Can Show You.

Sure they can...for a hefty load fee and for kickbacks to Dave...they get to place the logo below on their website and company materials. Read below for the complete story on why you should shun Ramsey and his ELPs.







I honestly didn't believe it.

I got a note from a reader raising concerns about the firm run by Dave Ramsey, a radio and television financial advice guy. Specifically, this reader suggested that Ramsey's company, the Lampo Group, was directing people to commissioned-based investment brokers.

Ramsey is best known for his advice on debt reduction and for claiming to personally have recovered from bankruptcy. He has networked extensively through churches around the country, especially in the south where he is based. Ramsey has no training or educational background in the financial services, financial planning, or investment fields.

Ramsey's company maintains a list of "Endorsed Local Providers" (ELPs) which includes investment brokers, real estate brokers, insurance and mortgage brokers among others. When a member of the public contacts Ramsey's company, before getting a referral to an ELP, they must provide personal contact information including home phone number and mailing address. Based upon the zip code location provided, prospects are provided with just one local broker referral from Ramsey's ELP network. Actually, the prospect is told, "Your ELP or a member of their team will contact you very soon to serve your investing needs."

Unfortunately, Ramsey's company fails to disclose that they are referring unsuspecting members of the public to commissioned-based brokers. (The collection of personal contact information followed by being told that someone will call you is often a red-flag that a broker in on the way!) Buried within a not easily found and lengthy Q&A on their website, Ramsey's firm poorly discloses that they are getting paid fees by these brokers from the referral relationship.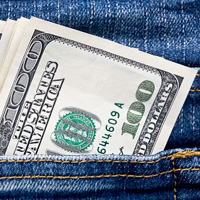 And, in the ultimate display of chutzpah, Ramsey's firm claims that among their criteria used for selecting ELPs are investment people who "Puts the client's needs first." If that were the case, why does his firm not refer the public to financial advisors who work on an hourly or fee basis rather than commission? "...if the ELP indeed 'Puts the client's needs first,' then they would be willing to sign a Fiduciary Oath saying so. Also, if the ELP was putting the client's interest first then these business arrangements/conflicts of interest would be disclosed to any potential prospect..." says Liz Cauble, a St. Louis, MO-based financial advisor.

By referring people to commissioned-based brokers, the referral fees don't have to be disclosed as they would be with a fee-based advisor. "A registered investment advisor would be required to disclose to the client that Ramsey's company was acting as a solicitor and would have to disclose the fee being paid to Ramsey as the solicitor," says Brent Everett, Chief Investment Officer with Talis Advisors, a Plano, Texas fee-based financial advisory firm. "I don't think that the commission sales model puts the client's needs first," added Everett.

"Things are rarely as they appear. People probably feel they are getting good advice from Ramsey but in fact he has a conflict of interest in recommending people who will kickback fees/payments to him for recommending them...The same type of thing surrounds Suze Orman...It is appalling that she would tell people to stay out of debt yet say that they should borrow from GM and buy or lease a new car because she was getting paid by GM to tout their products," says Doug Taylor, a Torrance, CA financial advisor.

"In an industry such as financial services where we hear every day about poor incentives and outright fraud, often involving undisclosed or poorly disclosed financial relationships among various parties, referral fees contribute to the complete lack of confidence that many consumers understandably feel with all financial-advice providers," says San Francisco, CA-based financial advisor Milo Benningfield.

In reviewing his on air and in print offerings, I am not surprised that Ramsey's investing advice is poor. He has no training or work experience dealing with the financial markets or the industry in which it operates. In addition to directing people solely to commission-based brokers for investing, Ramsey's investing advice also:


Does not recommend bonds and advocates 100 percent stock portfolios. Ramsey's advice in this realm has really come back to bite his listeners in the 2008-09 stock market plunge.
Assumes 12% annual stock market return. Ramsey erroneously extrapolated this from returns of the 1980s and 90s. In reality, stocks historically have returned about 6 to 7 percent per year above the rate of inflation and produce total returns of about 9 to 10 percent per year.
Focuses on growth funds which historically have produced lower returns and greater risk. He dislikes index and lifecycle funds which are excellent solutions for many investors.
Fails to understand the importance of expenses. "The biggest mistake people make is putting too much emphasis on expenses as a criterion," says Ramsey. Wrong - expenses are a huge criteria many people fail to give sufficient weight to when selecting investment funds.