Update: Trump University Scam? Trump University High-Priced Real Estate Seminars Lawsuits Settled.
publication date:
Nov 18, 2016
Update: The "playbooks" detailing sales tactics used by the Trump real estate seminar organization and part of a class action lawsuit were made public. Also, a number of ex-employees of Trump's seminar company have been speaking out. After winning the election, Trump decided to put this mess behind him by doing something he claimed he wouldn't do - he settled the lawsuits - by forking over $25 million.
I've seen it many, many times and warned about it often over the decades in my writings. And, I've seen it the most with real estate investing and investing in the stock market. Beware the pitches and promises of hucksters selling grossly overpriced seminars and the like that purport to teach you the simple secrets to getting rich.
Now, Presidential candidate Donald Trump is embroiled in three lawsuits that could force him into court in the middle of this Presidential election cycle. Among his many business ventures over the years, Trump University used a tiered approach to rope in wannabe real estate investors to learn the tricks and techniques from "successful" real estate investor Donald Trump (whose real estate companies have actually gone bankrupt four times).

Trump's situation actually has parallels to that of other hucksters who got into big legal trouble like Wade Cook.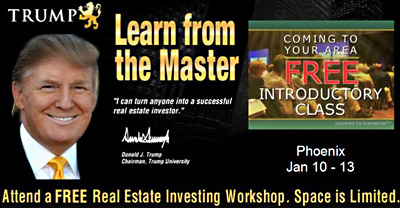 The way in which Trump University lured in its victims was a time-tested method used by other charlatans selling basic information at an exorbitant price tag. With Trump University, it began with a supposed "free seminar" (see ad above) and then escalated quickly to more ($1,495) and more ($34,995) costly seminars that ended up providing the "students" with unremarkable information that failed to make them rich. Below is an excellent summary from National Review:
"According to the lawsuits, Trump University aggressively marketed a 90-minute free seminar that would reveal Trump's real-estate investing secrets. "My hand-picked instructors will share my techniques, which took my entire career to develop," said one mass mailer bearing Trump's signature and offering two free VIP tickets to the event.
At the seminar, sales representatives were waiting, reportedly tasked with persuading attendees to pay an additional $1,495 for a three-day conference...that would provide "the last real-estate education you will ever need for the rest of your life." According to New York State's complaint, "Trump University speakers repeatedly insinuated that Donald Trump would appear at the three-day seminar, claiming that he 'is going to be in town' or 'often drops by' and 'might show up' or had just left."
But instead of getting a personal lesson from Trump, both cases claim, those who signed up got to take a picture with a cardboard cutout of him — and then, the "faculty" allegedly subjected them to another sales pitch, aimed at persuading attendees to sign up for a $34,995 "Gold Elite Program," which they said would include special training, mentorship, and access to alternative financing sources for real-estate deals.
Using high-pressure techniques, the complainants allege, salesmen tried to pressure attendees into charging the $34,995 to their credit cards.
The complainants allege salesmen tried to pressure attendees into charging the $34,995 to their credit cards. "Trump University even provided handouts with scripted talking points for students to use in their phone calls with credit-card companies, explicitly encouraging people to falsify their current income, 'add[ing] projected income from our future real estate venture[s],' and to deceive credit card companies by declaring income streams from corporate entities that had not been created, with the script telling students: 'If they ask you to prove income, inform them that it will be too much trouble to put all the paperwork together,'" New York State's complaint says."
For more information, see these articles: